You're a national brand and a mistreated customer shares an embarrassing photo of your brand on social media. They don't tag you on the photo, but it's just too good not to share. It goes viral and before you know it, your monitoring alerts are going off as leading sites begin to mention you and share the image online.
Momentum has already taken over and time is of the essence, but you're absolutely too late. You're in defense mode. You make a statement, humbly apologize, and do your best to make it up to the customer.
What if there were another way? What if there was a service that identified your logo in the photo and notified you real-time of the incident. Within the small network that had seen the image, they see your response a few laters. Perhaps you push a photo back with an apology and a reimbursement. While it doesn't stop the image from going viral, everyone that decides to write about the debacle also shares your response.
Instead of looking like a terrible brand that doesn't care, you now look like a brand that's listening to your customers. This is the benefit behind Sysomos Gaze (previously Gazemetrics) – providing image and video monitoring for social media, analytics, campaign management and reporting.
This slideshow requires JavaScript.
Managing a healthy brand requires not only knowing who is talking about your brand, product or service – but also what visuals they're sharing and seeing. Sysomos Gaze finds images of your brand across social channels and brings them together in one place.
Sysomos Gaze is also useful for digital rights management, allowing brands to easily contact users who have posted photos. Brands can ask for permission to republish user-generated images on their own channels, turning that content into assets that work for the brand.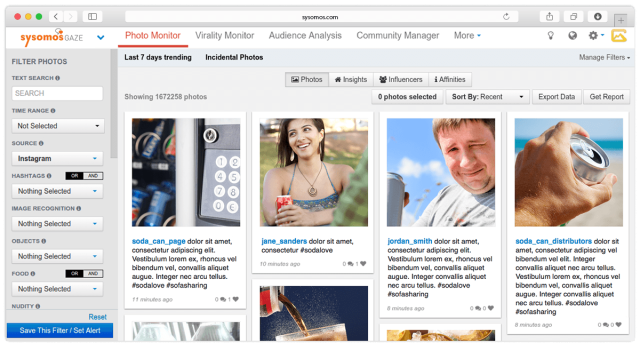 You can also monitor image and video mentions over time with Sysomos Gaze Analytics.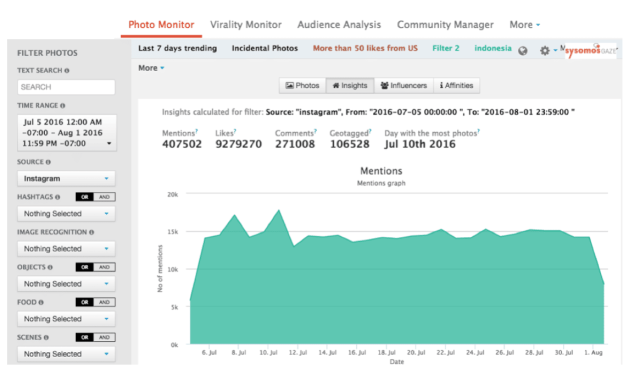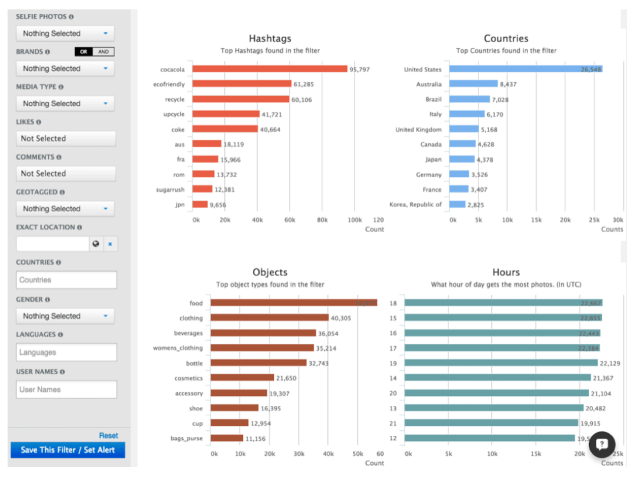 About Sysomos
Sysomos is the social intelligence company powered by data science that gives businesses immediate context to the hundreds of millions of conversations happening online every day. The Sysomos social intelligence platform continuously decodes these conversations and news stories to give marketers real-time answers about what their customers think and feel.
Find and curate authentic viral consumer social images and videos from consumers in a single view.
Automate approval request workflow enabling marketers to easily gather permissions from consumers to use their images and videos in their marketing campaigns
Lookalike content builder with Smartlists: Marketers can build collections of images based on visual elements by selecting a set of images with elements the marketer is looking to monitor or curate.
Monitor and engage with Instagram and Twitter influencers, gaining insights into their unique traits, affinities and activities
More than 1500 brands and agencies, including 80 percent of the most valuable global brands, as ranked by Interbrand, trust Sysomos for their social intelligence. Sysomos has offices in seven cities worldwide, including London, New York, San Francisco and Toronto.